CORTOMONTAGNA 2022 – MOTIVAZIONI PREMI E MENZIONI SPECIALI
Pablo – Everyday Climbers di Florent Quint (Francia, 2022) – VINCITORE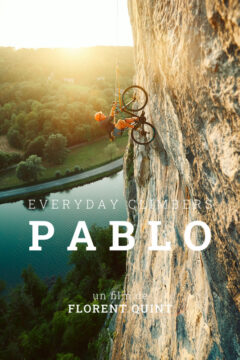 Arrampicate straordinarie, imprese ciclistiche e riflessioni personali di Pablo, un giovane belga alla ricerca della felicità, si alternano e danno il ritmo a questo coinvolgente cortometraggio. Immagini emozionanti e paesaggi spettacolari. Questa è la prima qualità del cortometraggio, uno degli episodi di Everyday Climbers, l'originale serie francese che presenta esperienze sportive, intime e private di scalatori non professionisti.
Pablo – Everyday Climbers by Florent Quint (France, 2022) – WINNER
The extraordinary climbs, cycling feats and personal musings of Pablo, a young Belgian in pursuit of happiness, intertwine and set the pace in this engaging short film. Exciting images and spectacular landscapes – these are the characteristics of this film, one of the episodes of Everyday Climbers, the original French series that shows intimate and private sports experiences of non-professional mountaineers.
The Silent Echo di Suman Sen (India, 2022) – VINCITORE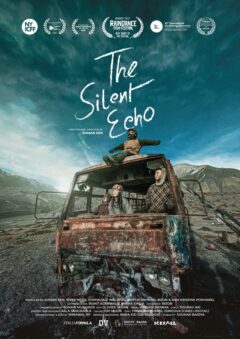 La carcassa di un autobus in cima a una vetta diventa una casa, un parco giochi, un luogo in cui trascorrere del tempo assieme facendo musica per un gruppo di adolescenti che abitano in uno sperduto villaggio di montagna. Il cortometraggio, con un consapevole uso del linguaggio cinematografico, si serve dei primissimi piani sui protagonisti del racconto, alternati a campi lunghi che abbracciano paesaggi sconfinati incrociando le riprese in interni ed esterni dell'affollamento della vita in città. Il risultato è la possibilità offerta allo spettatore di riflettere sui tempi e sui modi di vivere la musica e, ancora di più, la vita degli esseri umani.
The Silent Echo by Suman Sen (India, 2022) – WINNER
An abandoned bus on top of a mountain becomes a home, a playground, a communal space where to hang out by playing music, for a group of teenagers who live in a remote mountain village. With a deliberate use of the cinematic language, the short film makes good use of the characters' close-ups, alternating them with long shots embracing endless landscapes, and combining interior and exterior shots of the crowded city life. This results in an opportunity for the audience to ponder on the time and ways to experience music and, even more so, on life.
LOST di Maya Deborah De Bernardi Jagarinec (Italia, 2022) – MENZIONE SPECIALE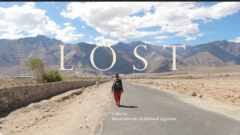 Un popolo e una cultura sorprendente raccontati da un punto di vista diverso. La regista non conosce né la lingua né i luoghi e decide di basarsi solo sulla percezione dei suoi occhi per narrare la sua esperienza intensa, con un uso semplice degli strumenti tecnici. Notevole è anche la rappresentazione dell'ambiente.
LOST by Maya Deborah De Bernardi Jagarinec (Italia, 2022) – SPECIAL MENTION
A surprising people and its culture told from a new point of view. The director knows neither the language nor the places, and decides to rely solely on her own perception to recount her intense experience, with a simple use of technical equipment. The depiction of the landscape is also remarkable.
51×3000 di Javier Cuevas e Adrian Azorin (Spagna, 2021) – MENZIONE SPECIALE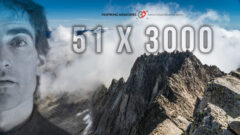 In maniera agile il documentario ci proietta dalla storia di un'intensa passione, quella dello spagnolo Jonatan Garcia per l'alpinismo, verso immagini spettacolari e mozzafiato che hanno per protagonista incontrastata la grande e insolita bellezza dei 3000 metri dei Pirenei.  
51×3000 by Javier Cuevas & Adrian Azorin (Spain, 2021) – SPECIAL MENTION
The short film ably takes us from the story of an intense passion, that of the Spaniard Jonatan Garcia for mountaineering, to the spectacular and breathtaking images portraying the majestic and unusual beauty of 3,000 metres of Pyrenees.
AmaNacer di Antonia Galmez e Francisca Navarro (Cile, 2022) – MENZIONE SPECIALE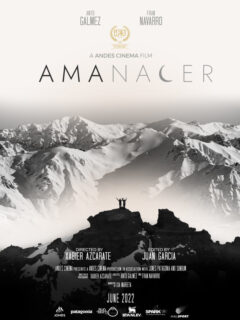 È un cortometraggio dall'alto contenuto emotivo e con un chiaro valore esistenziale.
Attente scelte registiche consentono di apprezzare il ritmo preciso e puntuale durante tutte le scene e l'utilizzo ponderato dei campi di ripresa, primissimi piani che si alternano a campi lunghi. Il cortometraggio presenta una fotografia del paesaggio montano tratteggiata da luci ed ombre, da contrasti tra immagini calde e fredde, che metaforicamente, pare, possano rappresentare le difficoltà e i successi, le delusioni e le soddisfazioni del percorso della vita. È solo la montagna che permette ad ognuno di noi di reagire con vigore a ogni turbamento.
AmaNacer by Antonia Galmez & Francisca Navarro (Chile, 2022) – SPECIAL MENTION
This is a short film with high emotional impact and clear existential value.
Careful directorial choices highlight the precise and punctual rhythm of the film and the masterful use of camera shots, from extreme close-ups to long shots. The film photographs a mountain landscape that is marked by light and shadow, by the contrast of cold and warm colours, which, metaphorically, seem to depict the hardships and the successes, the disappointments and the gratifications in life. The mountain is the only place that makes each of us react with strength to any upsets.
Hello Africa di Hasan Serin (Turchia, 2020) – MENZIONE SPECIALE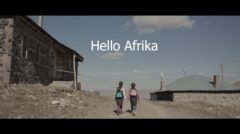 Il cortometraggio, osservando il tempo che trascorrono assieme due bambine che vivono in un villaggio montano, mette lo spettatore di fronte alla bellezza della semplicità della lettura di un libro, della natura incontaminata, dell'innocenza infantile. La macchina da presa insegue le protagoniste con delicata curiosità lasciando intravedere un paesaggio spoglio ma capace di far sognare e far immaginare quei mondi fantastici suggeriti dal racconto di Jules Verne che ascoltiamo dalla lettura appassionata delle bambine.
Hello Africa by Hasan Serin (Turkey, 2020) – SPECIAL MENTION
By observing two girls from a mountain village spending time together, the short film depicts the beauty of the simple things: reading a book, untouched nature, the innocence of childhood. The camera follows the two leads with a delicate curiosity, revealing a barren landscape that, nevertheless, makes us dream and imagine those fantastic worlds evoked by Jules Verne's stories that the two girls keenly read.